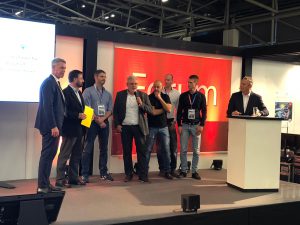 Materialica Gold Award für die Plant Biomechanics Group
Die Plant Biomechanics Group der Universität Freiburg wurde zusammen mit ihrem langjährigen Industrieprojektpartner E.G.O. Elektro-Gerätebau GmbH für das "Einschubkasten-Modul zur Sensoraufnahme für Waschmaschinen" mit dem Materialica Gold Award 2019 in der Kategorie "Surface and Technology" ausgezeichnet.
Bei Waschmaschinen steigen die Anforderungen an Energieeffizienz und Prozessergebnis stetig. Diesen kann man mit Hilfe von unterschiedlichen Sensoren gerecht werden. Im Einschubkasten platziert, verbrauchen sie keine weiteren Ressourcen. Der Fluidstrom wird über eine Abzweigung aus der Trommel eingebracht. Um die Waschlauge optimal zu untersuchen, braucht es aber dort speziell konstruierte beruhigte Zonen. Zum Lösungsansatz führte die Bionik – das Riechorgan des Hammerhais. Der Transfer der Anatomie in ein Einschubkasten-Modul für Waschmaschinen, das beruhigte Strömungszonen zulässt, wurde über mehrere iterative Abstraktionsschritte erreicht. Mit diesen Strömungszonen können verschiedenste Sensoren parallel eingesetzt werden.
Die Preisträger der Plant Biomechanics Group sind Thomas Speck, Georg Bold, Tim Kampowski, Max Langer, Tom Masselter und Marc Thielen.
https://www.botanischer-garten.uni-freiburg.de/forschung
https://www.emove360.com/de/fachmessen-events/awards-2019/materialica-award-2019/
Materialica Gold Award for the Plant Biomechanics Group
The Plant Biomechanics Group of the University of Freiburg was awarded the Materialica Gold Award 2019 in the category "Surface and Technology" for their submission " Detergent drawer with sensor mounting for washing machines" together with their long-term project partner E.G.O. Elektro-Gerätebau GmbH.
The demands on energy efficiency and process results are increasing, and can be satisfied with the help of different sensors. The chosen location for such sensors was the detergent drawer, because a fluid stream can be introduced from the drum. Biomimetics provided the solution to create areas of low flow rates, as the olfactory organ of the hammerhead shark served as inspiration. The transfer led over several iterative abstraction steps to a technical sensor recording, which allows different sensor types in the fluid flow of the washing liquor. By using the existing water supply and modularity of the concept, a robust and economical unit can be achieved for the most diverse sensor connections up to the optimization of dosing devices.
The awardees of the Plant Biomechanics Group are Thomas Speck, Georg Bold, Tim Kampowski, Max Langer, Tom Masselter and Marc Thielen.
https://www.botanischer-garten.uni-freiburg.de/forschung
https://www.emove360.com/de/fachmessen-events/awards-2019/materialica-award-2019/